Our Help Desk
The SCS Help Desk is located on the 4th floor of the Gates Center for Computer Science (click for external campus map to our building), room 4201. 
Email: help@cs.cmu.edu
Phone: 412-268-4231
In-Person: Gates Hillman 4201
Email: help@cs.cmu.edu
9 AM – 5 PM, Monday-Friday
Help Desk in-person support may be limited as the university adapts to evolving health concerns. Please visit our website's homepage for the current schedule and availability.
The Help Desk offers walk-in support services and will be the location to stop by for consultations, best-effort support, drop-off supported computers for repairs, pick up computers post-repairs, pick up loaner laptops, conference phones and additional accessories available for loans to the SCS community. 
We encourage contacting the SCS Help Desk in advance so that they can make an appointment to help with your issue and avoid crowding in our office and to allow us to provide the best possible in-person support. When arriving at the Help Desk, please ring the doorbell that is attached to the door.  A Help Desk team member will open the door and provide assistance.
Gates Center - SCS Help Desk Location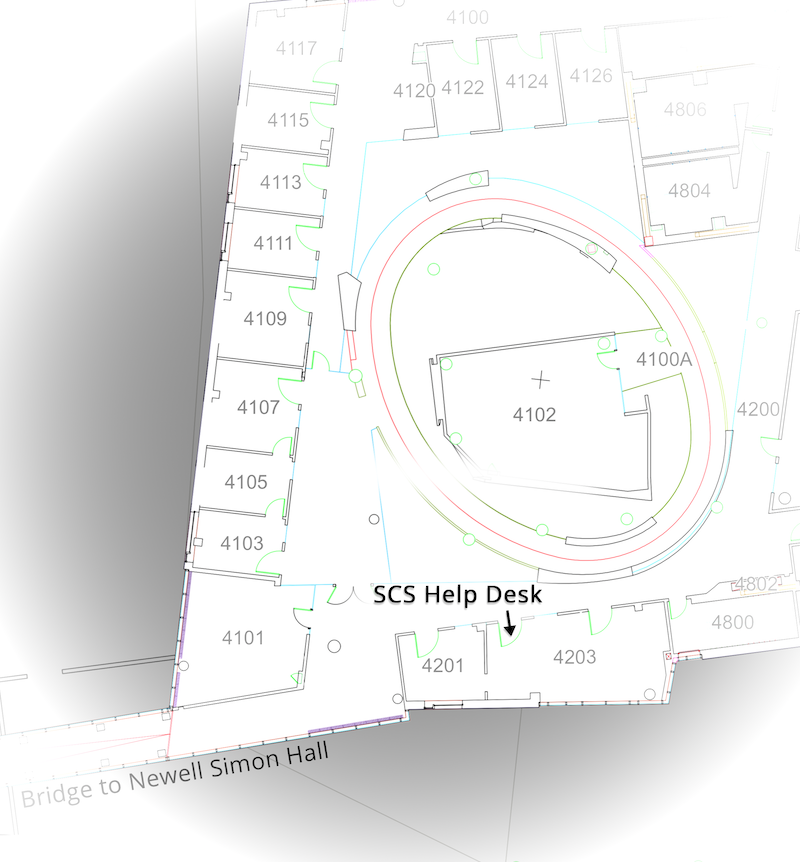 Was this page helpful?
Use this box to give us feedback on this webpage and its content. If you need a response, please include your Andrew ID.
Need technical support? Submit a ticket