Apple macOS Support
macOS Catalina is the sixteenth major release of macOS. Released in 2019, it is the successor to macOS Mojave.
SCS Computing Facilities (SCSCF) offer support for macOS that includes standard imaging with a baseline software offering along with support for issues relating to the operating system and its functionality.
We also support older versions of the operating system when required by software compatibility and other special situations. Please refer to our
operating system support lifecycle page
for more information.
The SCS macOS Baseline Software Configuration includes the following:
macOS Catalina
Microsoft Mac Office 2016
Mozilla Firefox
Cisco AnyConnect VPN Client
ESET System Security
SCS owned machines can be registered for support with SCSCF through our
online equipment registration form
. Please
contact us
if you have any questions regarding our support services or if you need registration assistance.
Mac Software Management Tools (JAMF)
SCSCF utilizes JAMF Software's Casper Suite of tools for Mac management. These tools enable the delivery of premium support options to the SCS Mac Community. All new hosts with software support deployed within the environment are enrolled in this service.
Some benefits of this service include:
Ability to launch simple user-directed OS upgrades
Access to all SCS software via a Self Service App Store
Easy search for and installation of SCS printing
Simply click the 'Self Service' icon located in the Applications folder or from the Launchpad on your Mac to get started. If you are registered for SCSCF Software Support and do not find Self Service in your system, please submit a ticket so that we may enroll your system and help with the installation of the client software for you. 
Self Service App Store
The Self Service App Store, found in the Applications folder or Launchpad on your Mac, is your gateway to the new suite of Mac-centric services offered to the SCS Community.
Software Installation
Access to all software provided to the SCS Mac Community is available via the Self Service App Store. In the Self Service App Store, you'll find all of our software packaged for use within the SCS environment. The licensing information has been bundled in to the installation package.
Upon launching the Self Service App Store, you will see our Featured software section that highlights the most popular and most recently updated applications used in our environment. The right pane of the Self Service App Store has a category listing that will facilitate software browsing. You also have the option of searching for an application using the search box located in the upper right hand corner.
To install software using the Self Service App Store:
Click

 

Self Service
Click

 

Install next to the application you wish to install (Additional applications are available by clicking

 

All Apps
When prompted, enter your password for your Mac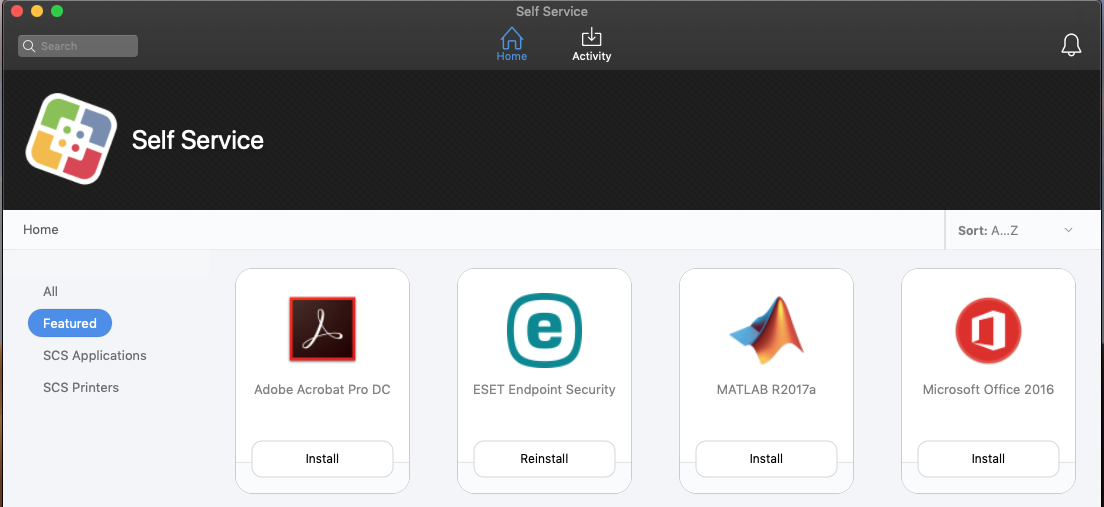 This will start the installation process, which can be tracked in the status bar window at the top of the Self Service App Store.
Printer Access and Installation
In the Self Service App Store you can browse all printers administered by SCS Computing Facilities. You can find printing instructions on our macOS printing page.
Was this page helpful?
Use this box to give us feedback on this webpage and its content. If you need a response, please include your Andrew ID.
Need technical support? Submit a ticket