Desktop Virtualization at SCS
Virtualization is the process of creating a software-based or virtual representation of something, such as virtual applications, storage, and even networks. Better yet, virtualization of entire computer systems is now easily done with the help of desktop hypervisor software. Desktop virtualization (type 2) is convenient as it can be run on most desktop operating systems and can be leveraged only when needed.
Looking for a VM?
We offer fully supported virtual machines with operating system options including Microsoft Windows and Ubuntu Linux. We use Oracle's VirtualBox as our supported desktop VM solution. You can request a VM for your SCS-supported computer through our online equipment registration form. 
Note: Oracle VirtualBox and our VM images are not compatible with Apple's M1 processor family. At this time, we do not have an estimation of when these processors will be supported.
Off Campus and need a Virtual Machine (VM)? 
Our UNIX Engineering Team now offers an integrated, self-service virtual machine image which is best suited for use when not using the SCS wired network. This VM image is built on a stock Ubuntu LTS install, and is provisioned with the core services to work directly within the SCS environment, including Kerberos authentication and access to AFS.
While this VM will not receive nightly updates from SCS Computing Facilities repositories, it will receive unattended upgrades directly from Canonical. This VM is free and does not qualify for SCS software support. To download the stand-alone VM image or for more information, visit the SCS Self-Service Ubuntu VM page.
About VirtualBox
VirtualBox is a powerful x86 and AMD64/Intel64 virtualization product. It has a significant offering of features, reliable performance, and steady updates and improvements. Presently, VirtualBox runs on Windows, Linux, and macOS. VirtualBox supports a large number of guest operating systems. 
VirtualBox is being actively developed with frequent releases and has an ever-growing list of features, supported guest operating systems and platforms it runs on. VirtualBox is a community effort backed by a dedicated company: everyone is encouraged to contribute while Oracle ensures the product always meets professional quality criteria.
Other desktop virtualization solutions
In addition to VirtualBox (either managed by SCS or run individually without support), Andrew Computing Services maintains a software catalog with offerings for the CMU community. Additional virtualization software may be available via the catalog.
VMware
Currently, Carnegie Mellon offers access to VMware products. These include VMware Fusion, VMware Workstation, among other products such as VMware vSphere. These are not provided by SCS and are subject to their own terms of use. 
Virtual Andrew
Virtual Andrew allows remote desktop access to Windows 10-loaded virtual desktops. Virtual Andrew may be ideal if you only need to use a standard Windows computer with standard office productivity software without using local virtualization or installing any software. In addition, Virtual Andrew virtual desktop instances will also include commonly used academic software such as Matlab, SolidWorks, R, and more.
Access is through an app installed on your computer or log in through a web browser. Visit the Use Virtual Andrew page for more information.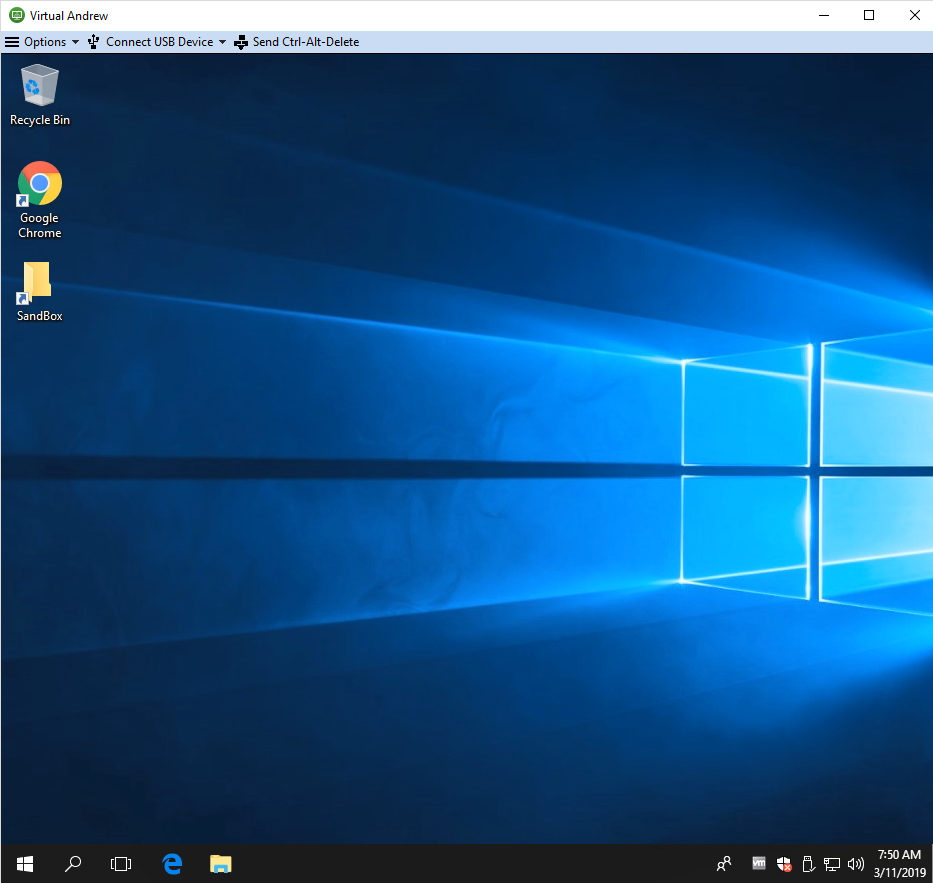 Was this page helpful?
Use this box to give us feedback on this webpage and its content. If you need a response, please include your Andrew ID.
Need technical support? Submit a ticket